Magnetic Formicaria from Happy Ant
Here's an interesting formicarium concept from a company called Happy Ant in the Czech Republic.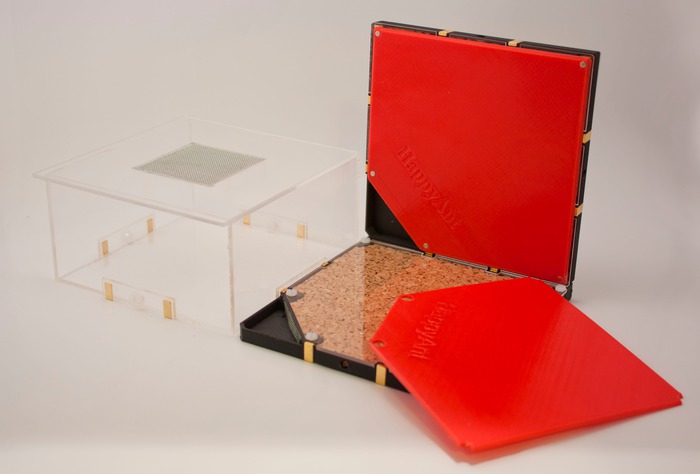 It involves a magnetic connection system to connect different modules to create a formicarium. The main nest module is made from plastic with metal mesh. It uses cork as a tunneling medium, but we would imagine that you could fill these area with a soil/clay medium also. 2 magnets on each side of the nest module enable you to snap them together. A clever series of connectors ensure that the joins remain ant tight. Plexiglass is used as the cover of the module, and is again held in place by 5 strong magnets. Red perspex is also supplied to help conceal the nest area.
The magnetic connections make it easy to add new nest modules once your colony outgrows its current module. They also enable you to connect an outworld using the same magnetic connection.
A "Reductor" attachment, pictured, is available and is used to connect your choice of tubing. This enables you to connect an external outworld directly to the nest module should you wish to do so.
It seems the venture is fairly new so you'll need to contact the owner directly to discuss an order.
Be sure to check out the video above and don't forget to pay them a visit, their website can be found here.
Thanks to our reader Elegy Gray for the tip!